Some of you must have seen the movie now ! Write in as to what you thought about PBDHH . The interesting comments will me posted back on this page the very next day ! So write in now, if you have seen it !
D E S G I N E D A N D P R E S E N T E D B Y T A N M A Y
Shah Rukh says...I told Madhuri Dixit to promptly have a daughter as beautiful as her. Then I'd get my son Aryaan to marry her!
F a n o f t h e M o n t h ! Sheetal sheetu143@yahoo.com
Sheetal's comment: What can i say? The movie was great!!! Very Very colorful something lacking in other hindi films, aside from KKHH and DTPH. It looks like they have put in very hard work and effort to put a smile on people's face and a print on their heart...
Shah Rukh and Juhi had done it once again with their brilliant acting, very natural and exciting...they make a great team...Shah Rukh feels as natural to Juhi as he does to Kajol... Acutally Shah Rukh, is Shah Rukh and he gets along with anyone overall.
Anys, it was very exciting filled with lots of emotions, hardwork, color, dedication and most of all love for ones country...
Ria Sharma sujeetha81@hotmail.com
comment: . my personal view of this movie is i think its a very interesting combination of colour and music...it's very colorful n gives a joy to the audience n makes us feel good for moives are done to entertain us..a movie with good colour n good actors really merges we readers to set glued in front of the tv.i think shah rukh was rteally good..nothing spectacular in his acting but very naturaly done.juhi looked excellent in her outfits n very good choise of clothes...her punjabi siuts are so beautiful that it makes feel so sad how come i'm not staying in india...all the way through it had been a very entertaining movie.a soft laugh, romance, freedom fighting.n a very good proposal done by juhi...they make a good couple in front of the tv only as best friends..not as lovers..somehow rather they don't fit in for romantic roles...last but not least...do produce more lively movies like this and i wouldn't mind at all !
Christopher chrisaga@excite.com
comment: It was superb movie .I ever seen .I loved the movie and the story line was nice.If you ask I want
seen the movie again and again.It made me walk with the crowds at last part.If was there. I wish to born as Hindustani one day.
jay4u24@hotmail.com
comment: My name Is Jay.I saw the movie twice, in three days, and I have Exams right now..The Beginning and the end were the best.Then again Dil Hai Hindustani.
Reena reenakatun@talk21.com
comment: phirbi dil hai hindustaniis a superhit.i loved every part of the filmm. Better than any 'Kuch Kuch hota hai'. well done sharukh khan and juhi chawla. Both of you look good. Well done to ace team consisting of aziz mirza, santosh sivan, farah khan,sharmistra roy.the film should be a big blockbuster!
Manan Patel mananpatel10@hotmail.com
comment: The movie is the best there is the best there was and the best there ever will be!!
sharmilah kaur sharmilahkaur@hormail.com
comment: I saw this movie so many times it's very nice.I love it very much.Well done shah rukh n' juhi n' everybody.I hope u all guys will make another movie just like this.That's all for now.
asma asmadiana@hotmail.com
comment: I've watched the movie and I love it.I really love and enjoyed the raining scene where there were sweet moments and dialogues
between them, especially the reason why sharu is handling the jacket to juhi. The most important thing is the movie is out
of love triangles or love to die for element. I can't stand another too mushy-mushy love story.
karishma bihari 990800@ichthus-rdam.nl
comment: hi. my name is Karishma Bihari. i live in Rotterdam Holland. on saterday the 22nd i saw the movie, and it was different. but the meaning of the movie was very well. the story was good. and shah rukh juhi were also good. in one word it was GREAT.
harsh_2000@indiatimes.comcomment: This moovie is very cool one .i saw this moovie 5 times in 5 days.i liked the movie so that i missed my exams and went to see the moovie.i think that this movie will be super duper hit and i like to thank all members who worked hard to make this movie.
Madhusudhan abcmadhu123@hotmail.com
comment: that was a good movie.absolutely relevant and a good message.really symbolises the true inner feelings of a hindustani.akhir dil hai
HINDUSTANI .
Abdul narmon@emirates.net.ae
comment: excellent film the best i think and by the way the song "i'm the best" matches shahrukhs criteria
samina : samina@bqe.com
comment: I went to see the movie with high expectations.The first part was good and entertaining but the second half with patriotic bit was stretched a lit too much. I wish they had carried the lightheartness of the first half into the second half without the heavy seriousness.
Read what fans ecpected from the movie here ...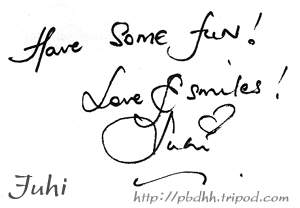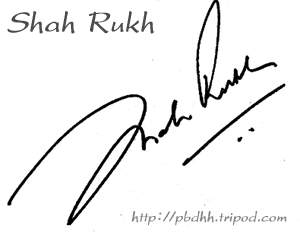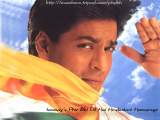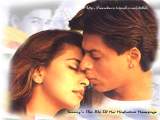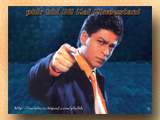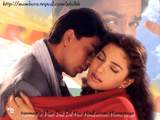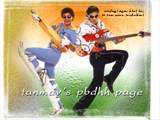 Main Gallery Music Download Movie Surprise ShahRukh Juhi Wallpaper ScreenSavers WinAmpSkins Feedback